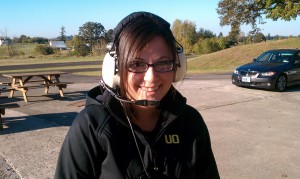 Yesterday I had one of my best flights yet.  Not only did my girlfriend Christina come up flying with me, but I was able to do a number of procedures I've been practicing and nailed most all of them.
Before flying, James and I went over the different procedures we were going to run through which was short and sweet.  I remembered most everything I needed for the maneuvers, however there were some parts I missed.  One thing I have stored in my brain is the beginnings of a maneuver; C-RITE:
C – Clearing turns – Turn 180 degrees checking for objects that could get in the way
R – Reference point – what is my point of reference whether on the ground or in front of me
I – Instruments – check the settings of the instruments
T – Talk (radio what is going on)
E – Emergency field – where am I going to land if things go awry.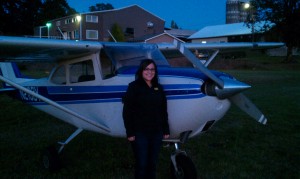 C-RITE is another checklist to run through to make sure that I'm setup to correctly run through my maneuver and so that I am able to take care of myself if an emergency occurs.  The instrument check is to get my heading, airspeed, altitude, and angle of turn values known so that when I make my maneuver, I keep within the valid values (heading +/- 10 degrees, airspeed +/- 10 KIAS, altitude +/- 100ft, and angle of turn +/- 5 degrees).
Though it was Christina's first flight, and she is extremely afraid of flying, she did an excellent job riding in the back of the plane.  I didn't hear her freak out once (though she probably was).
We ran though the following with her on-board:
IFR hood training
Steep turns
Slow flight
Power-off stall
Power-on stall
Simulated engine failure (emergency procedure)
Turns around a point
S-turns
and then landings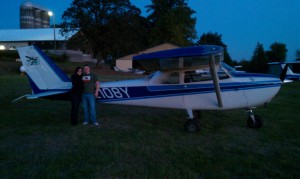 All of this was done in 1.3 hours of flying.  I was quite happy with the amount accomplished and it was all done with success.  Some better than others, but overall I was really happy with the results.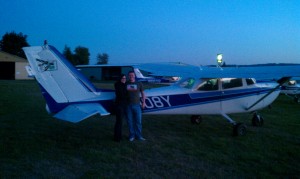 After landing I was able to get some shots of me and Christina.  What a great lesson and I look forward to the soon-to-come day of flying solo.
Logs
Flight Time: 1.3 Hours
Ground Time: 0.3 Hours
IFR Hood Time: 0.4 Hours
/